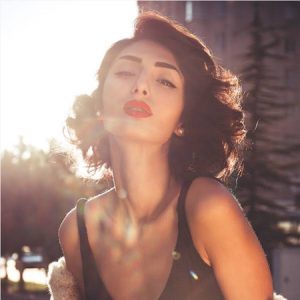 Born in 1985 in Shiraz, Boshra is an Iranian poet, writer, actress and model who was first introduced to Persian literature by her grandfather, before starting primary school. She later studied 'Children's Literature and Theatre' at the BIHE University and eventually left Iran for the USA in 2009.
In 2014 she was cast in the role of 'Maral', acting alongside famous Iranian singer-songwriter 'Mohsen Namjoo' in the film 'Radio Dreams', directed by Babak Jalali and produced by Marjaneh Moghimi. The film won the Tiger Award for Best Picture at the 45th Rotterdam International Film Festival.
Her first stage experience with critically acclaimed artist, 'Shahrokh Moshkin Ghalam' was in the play 'Zohreh and Manouchehr' ['Shahrokh Moshkin Ghalam 's take on early 20th century Iranian poet Iraj Mirza's poem], where she portrayed the role of 'Prince Manouchehr' [a male character] . Khale Sooskeh is her second theatrical appearance with Shahrokh Moshkin Ghalam, which has enjoyed 12 successful shows to this date.