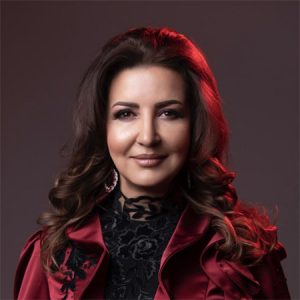 Soheila Golestani
Vocalist
Born in Isfahan, Iran, Soheila Golestani was raised in a family where her father, a tenured professor of philosophy at the University of Isfahan, had a circle of friends composed of talented
artists, composers, and poets that influenced Soheila who became interested in music very early in her life. In the elementary school, Soheila began learning to play the piano and continued to learn
about art, music and traditional singing. Soheila also continued with her academic education and obtained her Ph.D. in Laboratory Science from Shahid Beheshti University of Medical Sciences and established and managed her medical laboratory in Isfahan.
With her presence in Tehran for her academic education, Soheila had more opportunities to continue with her vocal training as well. During this period, she enrolled in the singing classes of Ms. Hengameh Akhavan and was able to enjoy Mrs. Akhavan classes for several years. She then joined the "Centre of Traditional Iranian Singers" in addition to attending training classes in sound techniques and later, became a centerpiece of the circle of traditional singers. She started to teach in 2007 and has hundreds of students trained for singing Iranian traditional songs.
Soheila has 6 albums and composers like Fardin Khalatbari, Mohammad Ali Kiani Nejhad, Jahanshah Boroumand, Siamak Ighani, and Majid Derakhshani had worked with her.
Soheila's last music album is Javedaneha ("immortals") with Homayoun Khorram. The well-known Iranian poet Mr. Shafie Kadkani has also given Soheila all the rights to sing his poems.
سهیلا گلستانی متولد ایران،اصفهان
پدرش استاد فلسفه دانشگاه اصفهان بوده است. به دلیل جایگاه اجتماعی پدر رفت و آمد اهالی هنر و موسیقی در منزل آنان زیاد بوده و همین زمینه‌ساز علاقه او به موسیقی شده است. در دوره دبستان شروع به فراگیری پیانو می‌کند و موسیقی برایش جدی‌تر می‌شود. او تحصیلاتش را تا مقطع دکترای رشته علوم آزمایشگاهی در دانشگاه علوم پزشکی شهید بهشتی تهران ادامه داد، گلستانی با انتشار تصویری در صفحه اینستاگرم خود از احضار به دادگاه برای «دفاع از ارتکاب فعل حرام در ملاء عام» به دلیل آواز خواندن خبر داد
فعالیت هنری
تحصیلات دانشگاهی گلستانی در تهران شرایط بهتری برای ادامه فعالیت آوازی او ایجاد کرد. در همین دوره او در کلاس‌های ردیف آوازی خانم هنگامه اخوان ثبت‌نام کرد و توانست تا چند سال از کلاس‌های این استاد بهره‌مند شود.در همین دوران او علاوه بر شرکت در دوره‌های تکنیک صدا به عضویت کانون خوانندگان موسیقی سنتی ایران نیز در می‌آید و موفق شد عضو پیوسته کانون خوانندگان سنتی شود.استاد شفیعی کد کنی،اجازه خواندن همه  اشعارش را به سهیل اگلستانی داده است
سهیلاگلستانی از سال ۱۳۸۶به تدریس آواز ایرانی پرداخته است
کنسرت :در ششمین جشنواره نوروزی کانادا ۱۶مارچ۲۰۱۹،برنامه اجرا کرده است
سهیلاگلستانی۶ آلبوم دارد و با اهنگسازانی مانند
فردین خلعتبری
محمد علی کیانی نژاد
جهانشاه برومند
سیامک ایقانی
مجید درخشانی
همکاری کرده است.اخرین البوم او جاودانه های استاد همایون خرم میباشد