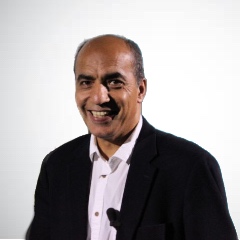 Saeed Paivandi is currently working as a Professor in the Faculty of Education at the University of Lorraine, Nancy, France since 2011. Prior to this, he was Associate professor at the University of Paris 8 (1996-2011). Paivandi holds Habilitation (HDR), Ph.D. in Sociology of Education from University of Paris 8 and a Master's degree in Sociology from University of Tehran. His areas of research and specialization are Sociology of Education and Sociology of intellectuals. Part of his research work is focused on Iran (the experience of the Islamization of education in Iran) and has published several articles on the Iranian curriculum, a book on Islamization of education in Iran (2005) in French and a book on critical analysis of Iranian textbooks in English (2008).
Abstract:
Amir Kabir: A Reformist and Pioneer of Modernization in the Traditional State
The process of modernization of Iran in 19th century was marked by the co-existence of two elite movements. The first movement represented reformist statesmen within the state apparatus of the Qajar dynasty who attempted to modernize Iranian society. These State-led reforms targeted the economy, State administration, Army, Education, Judicial system. The second movement (from bottom to top) includes intellectuals who largely contributed to spread the ideas of modernity. If Abass Mirza was the first eminent figure of state-led reforms, Amir Kabir has become the most important reformist personality of this period. With over 20 years of political practice within the State apparatus including 3 years as prime minister, Amir Kabir founded a conception and a model of modernization. Seeing in him a unique embodiment of honesty, patriotism, and efficiency, Amir Kabir represents an exceptional figure in the Iranian collective memory. He was also perceived as the founding father of emerging Iranian nationalism and modern education in Iran. Despite this very positive image, some critical questions are also raised about his conception of power and the modern State.