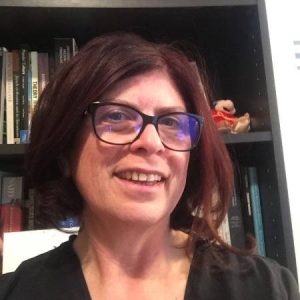 Nasrin Rahimieh is Howard Baskerville Professor of Humanities in the Department of Comparative Literature at University of California, Irvine. She is the Director of the School of Humanities signature Humanities Core Course 2019-2022. Between 2016 and 2019 she served as Chair of the Department of Comparative Literature and was Maseeh Chair and Director of the Samuel Jordan Center for Persian Studies and Culture and Professor of Comparative Literature at the University of California, Irvine (2008-2014).
Her teaching and research are focused on modern Persian literature, the literature of Iranian exile and diaspora, contemporary Iranian women's writing, and post-revolutionary cinema. Among her publications are Oriental Responses to the West, Missing Persians: Discovering Voices in Iranian Cultural History, Forugh Farrokhzad, Poet Of Modern Iran: Iconic Woman And Feminine Pioneer Of New Persian Poetry co-edited with Dominic Parviz Brookshaw. She translated the late Taghi Modarressi's last novel, The Virgin of Solitude from Persian into English.
Abstract:
Simin Daneshvar and the Forging of an Intellectual
Simin Daneshvar has been celebrated for her contributions to modern Persian prose fiction. What is less recognized is her position as a thinker and intellectual. This might in part be due to her husband Jalal-Al-e Ahmad's standing as one of the leading intellectuals of his time, renowned for his trenchant critiques of Iran's economic, social, political, and cultural subservience to the West, specifically to the US. In his fiction, essays, and travelogues, Al-e Ahmad gave voice to his concerns about what he perceived as Iran's loss of sovereignty and the consequences of the nation's near total submission to the trappings of modernization and Westernization. Interestingly, Daneshvar did not wish to be compared to her husband and insisted on her own distinct approach manifested in her fiction as well as her interviews and correspondence. She was far from sanguine about the problems that beset Iranian society before and after the revolution. And yet, she is not counted among Iranian intellectuals. In this presentation I will explore the terms under which Iranian discourses of intellectualism have sidelined women even as they have taken up the cause of women's position, education, and rights in Iranian society. Focusing on select examples from Danehsvar's fiction and correspondence I will demonstrate Daneshvar's rightful place among Iranian intellectuals of the modern era.