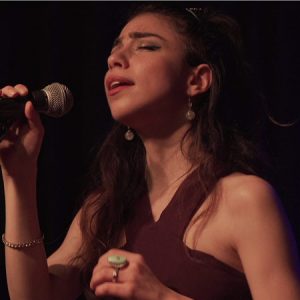 Leen Hamo
Musician,Vocalist
Leen Hamo is a Toronto-based Syrian artist, musician, singer and violin player. Leen started her music education (playing on violin, choir, practice-music theory) at the age of 10 at the "Arabic Musical Institute" in Aleppo-Syria. She has studied music for more than 7 years and participated in many concerts with other students on the stage of the "Culture Centre" in Aleppo. She graduated from University of Aleppo-Syria Fine Arts Faculty in 2014, specializing in Visual Communications.
Leen started her musical career in 2011 as a vocalist with various local Arabic music bands in Syria, in different styles such as flamenco, classic and rock fusion.
She has been a member of "Canadian Arabic Orchestra" since 2017, participated in many concerts in Toronto, Mississauga, Kitchener, Waterloo, London /Ontario, Montreal/Quebec.
She joined the Syrian trio "Diar Band" (ديار) as lead vocalist in 2018.
Instagram: @leen.hamo
YouTube:
https://www.youtube.com/channel/UCzVf30zi-uRWHs9B7zxq4AA?view_as=subscriber
Diar facebook Page:
https://www.facebook.com/MusicDiar