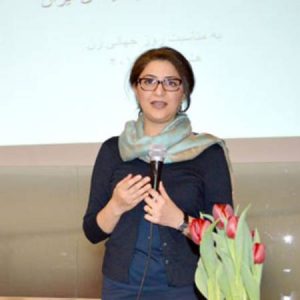 Khatereh Sheibani
Scholar
Khatereh Sheibani is a lecturer and researcher of Persian Studies at York University, Canada. Khatereh completed her doctorate degree in comparative literature and film studies at the University of Alberta, Canada in 2007. She has written articles on modern Persian literature, Iranian cinema and Middle Eastern cinemas in literary and film anthologies and journals such as Iranian Studies and Canadian Journal of Film Studies. Her book entitled "The Poetics of Iranian Cinema: Aesthetics, Modernity, and Film after the Revolution" was published in November 2011 by I.B.Tauris, UK. Her most recent work as an editor is "Iran Namag: A Special Issue on Abbas Kiarostami" (University of Toronto Press, 2018). Her novel titled "Hotel Iran" will be published in 2019. Khatereh has been consulted and interviewed on issues regarding Iranian cinema by broadcasting services and journals such as CBC, PRI, and the New York Times. She has taught courses on Persian literature and cinema, Middle Eastern cinemas, postcolonial literature, and documentary film and television. Currently, she is working on a book-length project on gender representation in Middle Eastern Cinema.
Abstract: 
Women Filmmakers in the Pahlavi Era 
 
The extensive and controversial history of Iranian cinema is intertwined with the politics of sexuality and gender relations in the 20th century. Early Iranian cinema was a vehicle for social change and modernity. Women, ethnic minorities, and various religious groups contributed to the progress of filmmaking. The thriving of Iranian film industry was a product of transnational and cross-cultural efforts of both men and women. In the formative years of Iranian cinema, women had a seminal role in front of camera. The last twenty-five years of the Pahlavi era were the most prolific years of pre-revolutionary Iranian cinema, which coincided with the emergence of women as filmmakers. This paper will focus on the work of five notable women behind the camera who made a significant role in film stylistics in the Pahlavi era: Shahla Riyahi, the director of Marjan (1956), Forough Farokhzad, the director of House Is Black (1962), Vida Ghahremani, the script writer of Love and Revenge (1965), Goli Taraghi, the script write of Bita (1972), and  Marva Nabili, the director of The Sealed Soil (1977). My argument in this paper concentrates on female directorial and production contributions to draw on feminine writing/ecriture feminine in Iranian cinema. Films such as House Is Black and Bita had a lasting impact on the documentary and fictional stylistics of a national cinema that harbors more than sixty four female filmmakers, and is known for its distinct aesthetics and superb humanistic language in today's world cinema.