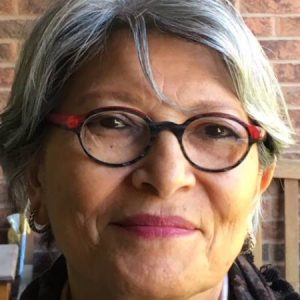 Haideh Moghissi  is the holder of a Ph.D. in Political Studies, Queen's University, M.A. in Political Studies, Queen's University and B.A. (Honours) in Law and Political Science, Tehran University
A retired professor of sociology and women's studies at York University in Toronto,  she was one of the founders of the Iranian National Union of Women and  a member of its first executive and editorial boards, before leaving Iran in 1984.
At York, Dr. Moghissi has served as associate dean of external relations at the Faculty of Liberal Arts and Professional Studies; as coordinator of the Certificate for Anti-Racist Research and Practice, as chair of the Executive Committee of the Centre for Feminist Research, and as a member of the executive committee of the Centre for Refugee Studies. She has sat on the editorial and advisory boards of the Journal of Comparative Public Policy, the Women and Politics series by Routledge, Resources for Feminist Research, and Feminist Forum. Her second book, Feminism and Islamic Fundamentalism, won the Choice Outstanding Academic Books Award for sociology.
Dr. Moghissi was one of the four recipients of the Pierre Elliott Trudeau Foundation Scholarship and fellowship in 2011 and a  winner of he Ontario Confederation of University Faculty Associations (OCUFA) Status of Women Award of Distinction in 2015.
Many of her publications have been translated into German, Arabic, French, Spanish, Korean and other languages.