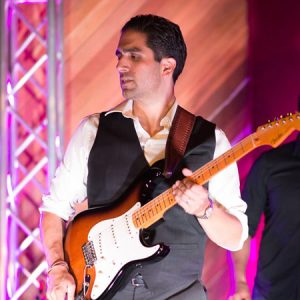 Dan Sistos is a prolific and sought after session and touring musician in the United States. He has performed, toured and recorded with some of the biggest names in the music business such as Christina Aguilera, Toni Braxton, Paulina Rubio, Macy Gray, Martina McBride, Juan Gabriel, Marco Antonio Solis and Shaila Durcal just to name a few. He has performed on major radio stations and on network television shows such as The Tonight Show with Jay Leno, the Late Show with David Letterman, Good Morning America and the American Music Awards. He was also the featured guitarist on the blockbuster video games Assassin's Creed Brotherhood and Assassin's Creed Revelations.
Dan's debut CD, In the Midnight Hours, received rave reviews in music publications, and has been excitedly lauded by his fans. 20th Century Guitar Magazine hailed him a "Spanish guitar master" while Black Label Reviews declared him "the Carlos Santana for the next generation." Dan's sophomore album, The Road to Euphoria, continued his tradition of blending classical, latin and jazz influences to create a sonic masterpiece. In 2012, Dan recorded and released his much anticipated live CD and DVD, Live in Concert.
Dan started playing the guitar when he was fourteen years old in San Diego, California. His natural ability for the instrument was so evident that he was awarded a scholarship to the National Guitar Summer Workshop a year later. After that he studied at the Berklee School of Music in Boston, and later at the Guitar Institute of Technology in Hollywood, CA. Since graduating GIT in 1997, Dan has been working as a full-time professional musician in Los Angeles. He has had music licensed for TV and film, and currently works out of his recording studio Turtle Rock Studios in Burbank CA.