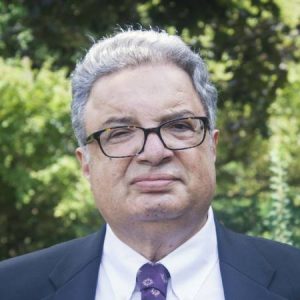 Ali Mirsepassi is Albert Gallatin Research Excellence Professor of Middle Eastern and Islamic Studies, New York University. He is also the director of Iranian Studies Initiative at NYU. He was a 2007-2009 Carnegie Scholar and is the co-editor, with Arshin Adib-Moghadam, of The Global Middle East, a book series published by the Cambridge University Press.
He is the author of "Iran's Troubled Modernity: Debating Ahmad Fardid's Legacy "(Cambridge University Press, 2018), "Transnationalism in Iranian Political Thought: The Life and Thought of Ahmad Fardid "(Cambridge University Press, 2017), co-author, with Tadd Fernee, of "Islam, Democracy, and Cosmopolitanism" (Cambridge University Press, 2014); is the author of "Political Islam, Iran and Enlightenment" (Cambridge University Press, 2011), "Democracy in Modern Iran" (New York University Press, 2010), "Intellectual Discourses and Politics of Modernization: Negotiating Modernity in Iran" (Cambridge University Press, 2000), and "Truth or Democracy" (published in Iran); the co-editor of "Localizing Knowledge in a Globalizing World" (Syracuse University Press, 2002. His new book, "Iran's Quiet Revolution: The Downfall of the Pahlavi State", will be published in November 2019, Cambridge University Press.
Abstract:
Crafting Iranian Social Imaginary: 
The inter-war period (1919-34)
The interwar years were the period when the critical elements of Iranian nationalism were crafted, or more precisely it began but remained unfinished .  Important ideas on the nature of the modern Iranian State received articulation, while its self-image was established against "cultural others," principally the threats of pan-Turkish (Ottoman) ideology. This book documents how the Iranian self-imaginary was partially formed in reaction to the racialized discourse of new Ottoman national identity.  I argue that an intellectual and political struggle occurred to write The Discovery of Iran, starting in the early 1900s and extending to the 1930s.  Important Iranian intellectuals who contributed to this struggle for national articulation were many, including the following: Hasan Taghizadeh, Mohammad Ali Foroughi, Ali Akbar Davar, Isa Sadegh, Ali Asghar Hekmat, Nosrat al-Dawlah Firouz, Mohamad-Taqi Bahar, Mohamad Mossadegh, Ahamd Kasravi and Shari'at Sanglaji.  In this talk I will focus on Taghi Arani's writings on Iranian social imaginary. I will argue that Arani's thought was part of a far larger intellectual and political wave which also figures in the story of thinking about the modern Iran.  Each of these individuals contributed significantly in shaping the debates which generated the beginnings of The Discovery of Iran which was never completed and it is still an unfinished project.