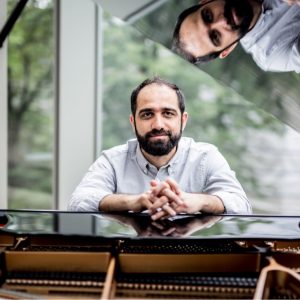 Saman Shahi
Composer, conductor, performer
Saman Shahi is an award-winning and published composer, pianist, conductor and educator based in Toronto. He's active in classical music, new music, Iranian traditional music, rock and electronic music, and because of his constant activities in Canada and abroad he has become a sought after performer and composer.
Saman's compositions, including some of his short film scores have been performed in North America, South America, Europe and Asia.
As a pianist and conductor, Saman has been an avid performer and advocate of new music in Toronto, and he regularly performs with a variety of Ensembles and musicians.
Saman is an affiliate Member of the Canadian League of Composers, Associate Composer at the Canadian Music Centre as well as a SOCAN member. He is also one of founders and the executive director at the Iranian-Canadian Composers of Toronto, ICOT, a 7 year old art organization that bridges cultures through music and art.
In 2019, Saman Was appointed as the new Music Director at the Peterborough Concert band. He also works as a teaching artist with the Canadian Opera Company.
Saman is also an active member of the Circle music band, a rock fusion group in Toronto.
Saman had the privilege of serving as a judge at the Juno Awards 2019 in the Classical music, Large Ensemble section.