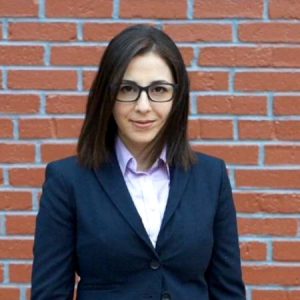 Born in 1984, Sareh Sokoot is an Iranian-Canadian-American poet, translator, and activist. She co-founded "The Cultural Events" at York University in 2012 and later founded Kaanoon Toronto in 2015. These groups have hosted numerous Persian poetry events, workshops, book signings, online studies, and meetings.
Sokoot's interest in poetry started before she could read or write, but she started pursuing literature seriously in 2010 and has been published in numerous Iranian and international outlets since. Her first book, The Fourteen Innocents "چهارده معصومه", was published in Berlin in 2014 and received positive feedback in Iran and Afghanistan. She writes poetry in English and Persian and has performed at numerous events in several cities in Canada and the US. Her second book "و جایی نرفتن جاهایی که از ما نرفته باشد" was published in 2018 and her third poetry collection "پیامبر درختها" was published in 2019. She was in charge of the literature section of Shahrgon and Sharhvand B.C. Magazine during 2018-2019 and translates for Feminism-everyday. She has also been a part of editorial teams of other magazine and newspapers. She has also been a language tutor (English and Arabic), and a volunteer interpreter for refugees camps.
In addition to literature, she holds several degrees and certificates, including a B.Sc with honours in Biomedical Science from York University and two diplomas in Dental assisting from CDI college. Currently, she is finishing her 4th book and has several children's books ready to publish and takes online courses in literature and philosophy.