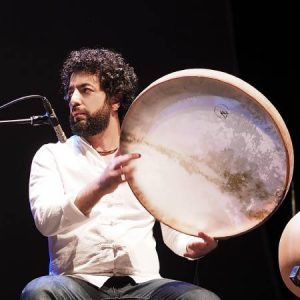 Ali Orangi is a daf player and percussionist who plays a wide range of percussion instruments such as "cajon", "udu", "dayereh" as well as the drum set.
He started receiving instructions on playing daf at Mahour academy in Tehran when he was 15 years old and continued for 3 consecutive years. Soon after, he focused on music theory professionally at Jahad Daneshgahi Center while he was studying at the University of Tehran. Besides learning traditional music, Ali was encouraged to learn spiritual music, Kurdish rhythms as well as some other styles of music such as jazz, pop and rock in drumming.
He has performed at various concerts and festivals around North America including : Toronto Jazz Festival, Tirgan Festival, Taste of the Danforth Festival, Nuit Blanche Festival, A World Away Music Festival in collaboration with different bands such as "Soley Ensemble", "The Circle Band", "Sheraton Cadwell orchestra",  "Baarbad Music", "String Attached Orchestra",  "Ensemble Topaz" and etc.
Ali has been teaching the daf since 2013 in Toronto.