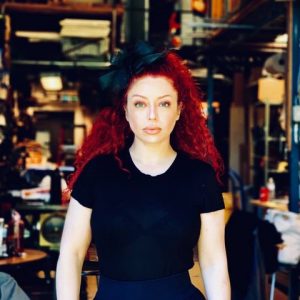 Tannaz Ghodrati
Performer
طناز قدرتی فارغ التحصیل کارشناسی ارشد زبان و ادبیات انگلیسی از دانشگاه آزاد و فارغ التحصیل رشته ی عکاسیاز کالج ماه مهر در ایران است. وی هم‌چنان فارغ‌التحصیل طراحی داخلی از سنکا است. شروع فعالیت هنری وی بهعنوان عکاس با محمد یعقوبی ومحمد رحمانیان و‌همکاری با مجلات ونشریات هنری بود. در سال ۲۰۱۷ و ۲۰۱۸ در دوکارگاه بازیگری سیاوش شعبانپور شرکت و در اجرای تئاتر چخوف‌نامه و تئاتر پرسش ۱ و ۲ به کارگردانی سیاوششعبان‌پور ایفای نقش کرده است. پس از آن در کارگاه اشک‌ها و لبخندها به هدایت آیدا کیخایی و محمد یعقوبی شرکتکرد. وی به تازه‌گی در تئاتر تراس به کارگردانی جعفر مهیاری نیز ایفای نقش کرده است.
Tannaz Ghodrati holds a Masters degree in English Literature and is a graduate of Photography. She has also studied Interior Design at Seneca College in Toronto. She started her artistic activities as a photographer collaborating with Mohammad Yaghoubi, Mohammad Rahmanian, and art publications. She participated in two acting workshops by Siavash Shabanpour in 2017 and 2018 and performed in Chekhovnameh (2018) First Question, and Second Question (2019 Dir: Siavash Shabanpour).
She has also participated in the Tears & Smiles theatre workshop presented by NOWADAYS THEATRE and instructed by Aida Keykhaii & Mohammad Yaghoubi.
Her most recent performance was in Terrace by Jafar Mahyari (2019).