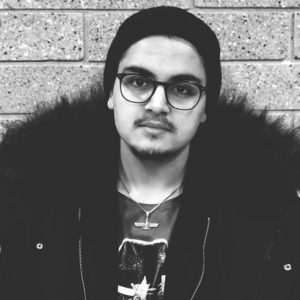 Sina Sasanifard
Stage Manager
سینا ساسانی فرد بازی‌گری و‌ نویسندگی را از دوره راهنمایی به همراه کلاس های بازیگری آغاز کرد. پس از مهاجرت بهکانادا، تئاتر را همچنان دنبال وبه فعالیت های خود ادامه داده است. سینا اکنون دانشجو سال دوم تئاتر در دانشگاهتورنتو است. «دل سگ» – بعد از «زمستان ۶۶» به کارگردانی محمد یعقوبی – دومین همکاری سینا با تئاتر «این‌روزها» هست.
دل سگ  بعد از «زمستان ۶۶» به کارگردانی محمد یعقوبی – دومین همکاری سینا با تئاتر «این‌روزها» هست.
از کارهای  انگلیسی او می‌توان کارهای زیر را نام برد
Sina started his acting and writing journey from junior high school while attending acting workshops in Tehran, Iran. After immigrating to Canada, he has continued to be involved in theatre productions. Sina is now in his second year of Drama at the University of Toronto (St. George Campus). The Inspector General, Twelfth Night, Henry V, Scorched, and The Winter's Tale,are some of his recent works.
Sina has collaborated with NOWADAYS THEATRE in Winter of '88 and is
tremendously grateful and excited to have the opportunity to once again work with this artistic company; especially on this adaptation by Mohammad Yaghoubi written in Persian, Sina's mother tongue.