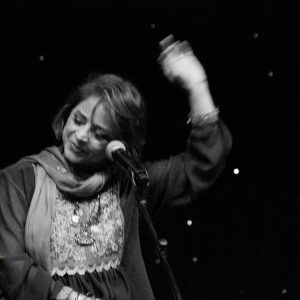 Sima Bina
Singer, songwriter, composer
Maestra Sima Bina's career in the performing arts has spanned 5 decades – Born in Khorasan, in the heart of a popular tradition, she started her career on Iranian radio at the age of nine, under the direction of her father, Ahmad Bina – a master of Iranian classical music and poet who wrote many of her early songs.
She studied the repertoire of learned music "radif" and singing technique with great masters such as Maaroufi and Zarrin Panjeh. She went on to acquire her own solo programme, Golhaye Sahraii (Flowers of the Desert), presenting a collection of folk songs and music from various regions of Iran, which is still remembered today.
After graduating from Tehran University in 1969, majoring in Fine Arts, Maestra Sima Bina continued and perfected her knowledge of "radif" with the highly subtle teaching of great Master Davami.
Maestro Sima Bina, is notable Persian classical musician is an Iranian composer, researcher painter and teacher, described by Radio WDR Germany as the "Grand Lady of Iranian Folk Music", a leading Iranian classical singer and songwriter. A lifetime of dedicated work on Persian folk music has made Maestra Sima Bina a legendary character in the history of Iranian music
Since 1993 she has accepted invitations to perform her music worldwide in prestigious festivals and organized concerts.
Her main focus is Iranian folk and classic music. Maestra Bina has been able to gather and revive a collection of almost forgotten Iranian folk songs and melodies. A captivating vocalist, Maestra Sima Bina is one of the leading exponents of the traditional music of Iran. For decades she has done extensive research on Persian folk songs, collecting, recording, writing and re-interpreting popular regional music. Her works cover the whole spectrum of Iranian folk music including Mazandarani music, Kurdish music, Turkmen music, Baloch music, Lor music, Shirazi Music, Afghan Music, Bakhtiari Music, north and South Khorasan.
While pursuing Iranian folksongs, Maestra Sima Bina often came across a variety of ethnic lullabies which she added to her collected works. This collection finally led to her book, Iranian Lullabies in 2009. In this book, Maestra Sima Bina not only shares her findings, her perception, the scores and visual expression of the selected lullabies with mothers, she also presents forty original Iranian lullabies in four CDs in which her vocal is sometimes blended with the singing of the mothers who had song the lullabies to her in different parts of Iran.
The worldwide recognition her music receives today is the materialization of over forty years of her devotion to Iranian music