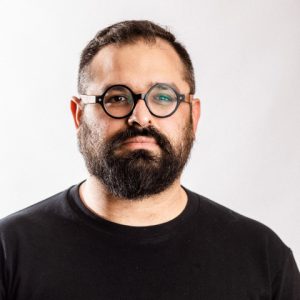 Siavash Shabanpour
Performer
سیاوش شعبان‌پور، شش دوره کارگاه‌های بازیگری را در تورنتو و یک دوره در ایران برگزار کرده است که حاصل اینکارگاه‌ها، اجراهایی چون "پزشک نازنین"، "سی‌روبل برای ظرافت"، "چخوف‌نامه"، "پرسش اول" و "پرسش دوم" بود کههمه در تورنتو به روی صحنه رفته‌اند. او همچنان بازیگری در چند فیلم کوتاه وسه فیلم بلند سینمایی را در کارنامه‌ی خوددارد. شعبان‌پور بازیگر نمایش‌هایی چون "مرد بالشی" به کارگردانی محمد یعقوبی و آیدا کیخایی، "هیولا خوانی" بهکارگردانی محمد یعقوبی، "خواب در فنجان خالی" به کارگردانی آیدا کیخایی و "دکتر فاستوس" به کارگردانی الکساندرلوکاچ بوده و نیز در چندین اجرای پایانی کارگاه‌های سهبل پارسا، چون "هنگامی که حادثه اخطار می‌شود"، "مجلسمرغان"، "خانه"، "تنها صداست که می‌ماند" و "آرش" به روی صحنه رفته است.
Siavash Shabanpour, poet, director, and actor was born in Tehran. He studied Theatre Studies at York University in Toronto and began a thriving career as a director and actor for the stage. His directing credits include The Name(2019),The Question 1 (2019),The Question 2 (2019),The Case of Metranpazhem (2019), The Name (2018) The Body of a Woman as a Battlefield in the Bosnian War (2018),Chekhovnameh (2018), The Cripple of Inishmaan (2017), The Monster (2017-Iran), Thirty Roubles for delicacy (2016),The Good Doctor (2015),Two Ducks In The Mist (2014),Operatic Narration of Arash the Archer (2013), Horses at the Window (2012), When It All Falls Down (2011), The Story of Panda Bears Told By a Saxophonist Who Has a Girlfriend in Frankfurt (2010) and Apartment 812 (2008).He was an actor of workshop presentation of Arush (2006),Home (2007), and Conference of the Birds (2011) all Directed by Soheil Parsa, Doctor Faustus (2011, Dir :
Aleksandar Lukac), Pillowman (2016, Dir: Mohammd Yaghoubi and Aida
Keykhaii).