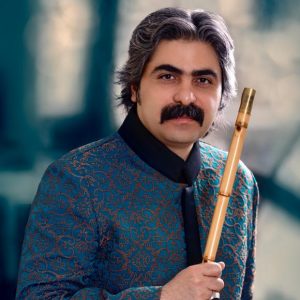 Shaho Andalibi
Ney Player
Shaho was born in Sanadaj, Kurdistan, Iran. He learned Kurdish music, melodies and modes from his late father Iraj Andalibi at the age of 4, playing the Persian ney from his cousin Jamshid Andalibi, singing techniques from Maestro Mohammad Reza Shajarian and improvising and group performing from Maestro Majid Derakhshani.
Shaho obtained his Master's degree from the Art University of Tehran in 2007 with specialty in Playing Iranian Musical Instruments. He is an outstanding performer with more than 50 performances across the globe, has accompanied the grandmaster Mohamadreza Shajarian in Ava and Shahnaz Ensembles, grandmaster Sima Bina in the Armenia concert and many Iranian groups such as Mah-Banoo, Khorshid, Mah, Shams, Mawlana Ensembles and international ensembles like the Netherland Symphonic Orchestra.
He is also a skilled music teacher with more than 25 years of extensive experience and he established Andalib Music Academy in Toronto,2016.
Shaho has participated in the production of more than 40 music albums such as Morghe Khoshkhan, Rendane Mast and Gole Sib, in group and solo. He had a successful tour with Andalib Ensemble "Sounds of Persia" in Tirgan Festival and other performances in Toronto, Ottawa and Montreal.
Shahou has won the Aga Khan Music Award in 2019.