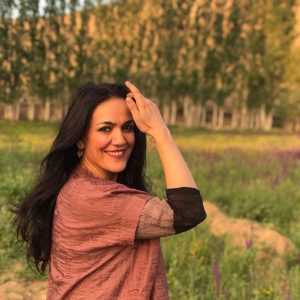 Marjan Vahdat
Musician, vocalist
Marjan Vahdat, together with her sister Mahsa, is among the most important performers of Persian vocal music in the world today. The career of the two sisters has given a deeper knowledge about Iranian poetry and music to large audiences in Europe, America, Asia, Oceania and Africa.
Marjan has developed her personal style based on the Persian vocal tradition of classical and folk music, but with a contemporary expression, and also with a special interest in the styles from rural regions in Iran.
Mahsa was born in Tehran in 1976 she Started music by taking lessons in piano and Persian singing with different masters in music. She has been taking part in many international festivals and concerts in Germany, Norway, Italy, France, Sweden, Bahrain, England, Spain, Poland, Switzerland, USA, Australia, New Zealand and Turkey. She has worked with many composers in Iran and also other countries.
Marjan Vahdat also cooperates with Freemuse Organization, an independent international organization which advocates freedom of expression for musicians and composers worldwide  (www.freemuse.org ).
Marjan has collaborated with many musicians like Knut Reiersrud (guitar, Norway), Atabak Elyasi (setar, Iran), Gjermund Silset (double bass, Norway), Tord Gustavsen (piano, Norway), Pasha Hanjani (ney, Iran), Ali Rahimi (percussion, Iran), Shervin Mohajer (kamancheh, Iran), Ertan Tekin (duduk, Turkey) and Ahmand Al Khatib (oud, Palestine/Sweden).
Marjan has, for many years, also collaborated with the Teatr Zar and the Grotowski Institute from Wroclaw in Poland in the theatre piece "Armene Sister" and other projects.