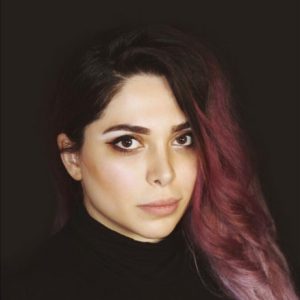 Mahsa Ershadifar
Performer, Assistant Director
مهسا ارشادی‌فر بازی‌گر دو زبانه (انگلیسی وفارسی)، دستیار کارگردان و مدیر صحنه است. او تا به حال در چندین پروژه با تئاتر «این‌روزها» از جمله تولیدات 'رقص کاغذپاره‌ها' به فارسی وانگلیسی (استودیو دنس میکرز) و 'تنها راه ممکن' (کنیدین استیج) به عنوان بازیگر و دستیار کارگردان هم‌کاری کرده است. پیش از این، او در نقش 'کتی' در اجرای انگلیسی 'تیم شنا' به کارگردانی آیدا کیخایی، ایفای نقش کرده بود که توسط تئاتر«این‌روزها» در تیاتر سنتر اجرا شد. مهسا به تاز‌گی در اولین اجرای انگلیسی زبان 'زمستان ۶۶' در نکست استیج فستیوال به عنوان دست‌یار محمد یعقوبی، نویسنده وکارگردان، فعالیت کرده است. وی هم‌چنین یکی از مجری‌های جشنواره  تیرگان، بزرگترین جشن فرهنگی ایرانی در جهان است.
Mahsa Ershadifar is a bilingual (English and Persian) performer, assistant director, and stage manager. She has worked on several projects with NOWADAYS THEATRE including productions of Dance of Torn Paper (DanceMakers Studio) and The Only Possible Way (Canadian Stage Company in Residency Program) as an actor and assistant director. Her most recent acting role was as Katy, in the English remount of Swim Team, directed by Aida Keykhaii and presented by NOWADAYS THEATRE at Theatre Center. She has been assistant director to Mohammad Yaghoubi in the premier of the English language version of Winter of 88 at the recent Fringe Next Stage Festival in Toronto.
Mahsa is currently an emcee at The Tirgan Festival, the world's largest event celebrating Persian culture.