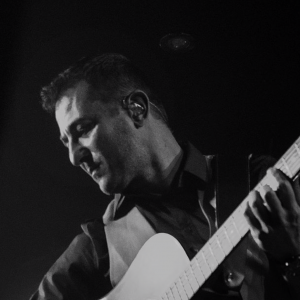 Erwin Khachikian
Musical artist, producer
Erwin Khachikian is a musical artist and producer living in Los Angeles. Born in Iran to Armenian parents, he grew up in Southern California and his first band Slow Motion Reign was signed with Columbia Records.
Erwin has performed on major TV shows such as The Tonight Show, (both Leno and Kimmel) and has been a recurring guest on BBC's Kook. He has toured the globe as musical director and keyboard player with Serj Tankian (System of a Down), playing at festivals such as Germany's Rock Am Ring, the Leeds Festival and the massive English rock extravaganza, Reading Festival.
His solo musical project since 2010, KARMANDAN, captured the attention and loyalty of a wide Persian audience all over the world. His take on Iranian cultural issues and his provocative music videos helped bring his music into the underground rock scene of Tehran. Recently, he teamed up with multi-instrumentalist and vocalist, Niaz Nawab, a Persian-French performing artist with a global following herself. Together they will tour North America and Europe in 2020, performing their latest album Terminal One.
Erwin also serves as the musical director for Let Her Sing, an annual event in San Francisco showcasing female artists who have been banned from singing in their home countries. He co-founded United East, a non-profit in Vancouver, which collaborates with tech companies to bring together musicians from the 'east' to celebrate their similarities through music on stage.
His experience working with diverse acts, has given him a vast knowledge of genre and style. He plans to continue developing new artists and entertaining audiences for years to come.