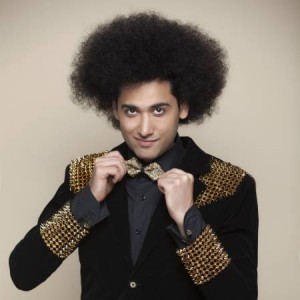 DJ Bliss also known as DJ Aras and formerly known as DJ XTC, has been exposed to music since his childhood. "Music runs in our blood" he says, "from poets to producers, singers, and artists, we've got it all. More than half of our family plays at least one musical instrument" he adds. Both his grandfather and father are poets and have been involved in the entertainment industry professionally.
With the help of his parents, his first musical instrument, a flamenco guitar became the door to the professional world of music for him, at the age of 16. Aras says "knowing music makes you a much better DJ and I owe it all to my parents especially my father who pushed me to learn music; particularly to play at least one instrument. It helps me so much with understanding the concept of music when DJing."
Being a curious young Entrepreneur, and eager to advance, at the age of 16 he founded eXTC Entertainment. eXTC was a promotion company that hosted events in homes and basements. The business took off very fast and became a success. At the age of 17 he was invited by a club known at the time as "Eclipse" to promote the venue. As a result of his success in the clubbing scene more and more clubs began to inquire on his services thus making a reputable name for his company in the industry. In 2004, eXTC Ent, under his management, had twelve active promoters, five DJs, and three administrative staff.
For DJ Bliss professional DJing began on a night when a contracted DJ did not show up for a job. Not wanting to let his clientele and the company's reputation down, DJ Bliss took it upon himself to give it a shot and put his skills to work. Stepping in the DJ booth, he instantly felt an unexplained connection between himself and the crowd empowering him to excite the crowd and get the party going. DJing had always been a hobby until that point but never a profession! Enough magic was done to get him hooked for life and ever since then, everything changed! He has been working the clubs, concerts, private and corporate events all around North America and as far as Dubai.
He has now made it his personal mission to gain and constantly maintain the expertise needed to be one of the most successful DJs in the industry. By redefining the standards in the industry and surpassing expectations he has been giving clients what they truly deserve and what they must expect from a professional DJ. His mastery in showman ship coupled with Deejaying and his personal understanding of the entertainment world allows him to be more than just a DJ, offering his clients, a whole new level of entertainment.