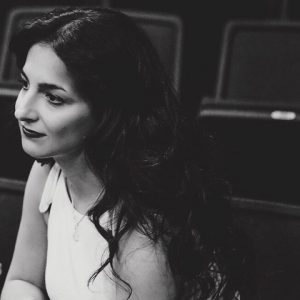 Aylin Oyan Salahshoor
Performer
آیلین اویان سلحشور بازیگر ایرانی- کانادایی اهل تورنتو است. وی برای چند نمایش تئاتر در تورنتو به روی صحنه رفتهاست. آخرین فعالیت‌های تئاتر وی در تورنتو، به اجرای «تیم شنا» (نوامبر ۸-۱۷) و سیزیف و مرگ ( می ۱۱-۱۳) برمی‌گردد. آیلین از سال ۲۰۱۷ به طور جدی عشق و علاقه خود را به تئاتر در کانادا – تورنتو دنبال می کند، و در چندینکارگاه آموزشی بازی‌گری در طول سال‌های اخیر از جمله کارگاه بازی‌گری محمد یعقوبی و آیدا کیخایی شرکت کردهاست. از دیگر کارهای او در عرصه‌ی بازی‌گری طی چند سال گذشته می‌توان به «رقص کاغذ پاره‌ها(نوامبر ۲۰۱۸) و تنهاراه ممکن (ژوئن ۲۰۱۸) اشاره کرد.
Aylin Oyan Salahshoor is a Toronto-based actor. She has performed in a number of theatre productions in Toronto. Her most recent performances are Swim Team (Theatre Centre – November 8 to November 17, 2019) and The Sisyphus and Death (Alumnae theatre – May 2019). She has been actively pursuing her love for theatre in Canada- Toronto since 2017, and has attended several acting workshops in the recent years including Mohammad Yaghoubi and Aida Keykhaii's acting classes.
Over the last few years, she has appeared in the following performances: The Dance of Torn Papers (Dance Maker – November 2018) and The Only Possible Way (Ignatieff Theatre – June 2018).