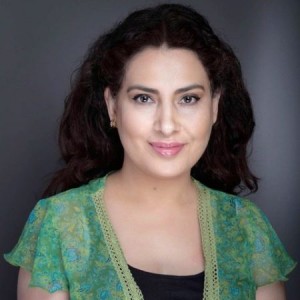 Aida Keykhaii
Producer, Performer
آیدا کیخایی، بازی‌گر، کارگردان، آموزگار تئاتر و یکی از موسسان کمپانی«این‌روزها» است.
آیدا کیخایی دانش‌آموخته‌ی رشته‌ی تئاتر از دانشکده‌ی هنرهای زیبا  و کارشناسی ارشد کارگردانی تئاتر از دانشگاههنرهای زیبای تهران است. از کارهای برجسته‌ی او در مقام بازی‌گر می‌توان به بازی در تئاترهای «یک دقیقه سکوت»،«زمستان شصت‌وشش»، «برهان»، «خشک‌‌سالی و دروغ»، «بیداری خانه‌ی نسوان»، «تنها راه ممکن»، «ماه در آب» و«نوشتن در تاریکی» و بازی در فیلم‌های سینمایی «ما همه خوبیم» و «خشک‌سالی و دروغ» و سریال‌های تلویزیونی«روزگار جوانی»، «ایست‌گاه»، «دختران»، «و خدا عشق را آفرید»، و «سلام زندگی» اشاره کرد. آیدا کیخاییکارگردانی نمایش‌های «خداحافظ»، یک دقیقه سکوت»، «شام با دوستان»، «مرد بالشی» و «خواب در فنجان خالی» رابه زبان فارسی و نمایش‌های «تیم شنا» و «رقص کاغذپاره‌ها» را به زبان انگلیسی در کارنامه‌ی کاری خود دارد.
 او در سال ۲۰۱۵ به کانادا مهاجرت کرده و ساکن تورنتو است. در سال ۲۰۱۶ به‌همراه محمد یعقوبی کمپانی تئاتر«این‌روزها» را تاسیس کرد. آیدا کیخایی ومحمد یعقوبی از آغاز ورود به کانادا تاکنون چند کارگا‌ه‌ تئاتری برگزار نموده اند.
 در سال ۲۰۱۶ در نمایش «برهان» به کارگردانی محمد یعقوبی در سالن تئاتر فیرویو ایفای نقش نمود وی همچنین درسال ۲۰۱۶ به کارگردانی مشترک محمد یعقوبی نمایش «مرد بالشی» را در سالن تئاتر  فیرویو  در تورنتو به روی صحنهبرد. سپس در سال ۲۰۱۸ نمایش «رقص کاغذپاره‌ها» را به کارگردانی مشترک محمد یعقوبی و با حمایت اداره‌ی هنرهایتورنتو و اداره‌ی هنرهای انتاریو به زبان انگلیسی با حضور بازی‌گران چندملیتی به زبان انگلیسی اجرا نمود. وی هم‌چنیندر سال ۲۰۱۸ نمایش «تیم شنا» را در فستیوال تئاتر سامرورکس به زبان انگلیسی اجرا کرد. این نمایش کاندیدایبهترین کارگردانی توسط کمپانی کنیدین استیج ودر چهار عنوان کارگردانی، طراحی صحنه، بازی‌گری و بهترین نمایشتوسط هفته‌نامه‌ی "ناو" شناخته شد. آیدا کیخایی در ماه مارچ ۲۰۱۹ در نمایش «تنها راه ممکن» برای نخستین بار بازیبه زبان انگلیسی را در کنیدین استیج تجربه کرد. تازه‌‌ترین کار هنری آیدا کیخایی بازی در نمایش «زمستان ۶۶» بهکارگردانی محمد یعقوبی و دومین بازی وی به زبان انگلیسی بود که در ژانویه‌ی ۲۰۲۰ در فستیوال تئاتری نکست استیج درتیاتر فکتوری به روی صحنه رفت.
Aida is an Iranian Actress Director, Producer and Theatre Instructor with over 20 years of experience in the industry.
She holds an MA in Play Directing and a BA in Acting from the University of Tehran. She is the co-founder and co-Artistic Director of NOWADAYS THEATRE company, which was the 2018-19 Company in Residency at Canadian Stage, – there, she made her Canadian acting debut in The Only Possible Way.
As a director she staged Swim Team presented by NOWADAYS THEATRE at Theatre Centre,Toronto, in November 2019. She recently performed in English for the second time in Winter of 88 directed by Mohammad Yaghoubi at the 2020 Next Stage Theatre Festival.
Selected Awards and Honours include The Iran Festival of University Theatre for Outstanding Acting, Olive; The International Iran Festival of University Theatre award for Outstanding Directing, Goodbye; Honourable Mention from Canadian Stage in Directing and NOW's annual list of the "Best of the Fest" for Outstanding Production,Ensemble, and Direction, Swim Team.