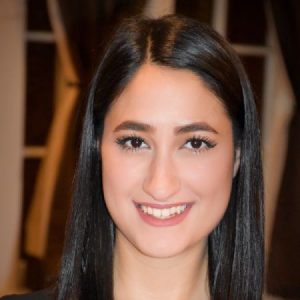 Sharareh Saremi started classes with Vancouver Pars National Ballet (VPNB) when she was 7 years old. Her mom was taking lessons with VPNB at the time and thought to enrol her daughter as she loved dancing. Saremi pursued her love for dance by training in classical ballet, which she continued doing for fourteen years. She is trained in pointe, modern, lyrical and belly dance and joined the VPNB's performing troupe in 2012.
Saremi's favourite dance has always been Azari. She loves it because it's demure and delicate one minute, and then fast-paced and upbeat the next. She loves Iranian folk dances because they are rooted in tradition, while also being very technical. They include elements of ballet that she grew up with and enjoyed, but also the heart of culture and the freedom of expression.
Saremi loves being a part of VPNB because she loves to express herself through dance. It is a way for her to be in touch with the cultural side of her heritage that she would otherwise know nothing about. This group has become a family to her and dancing with these strong, brilliant women is one of the best parts of her life.