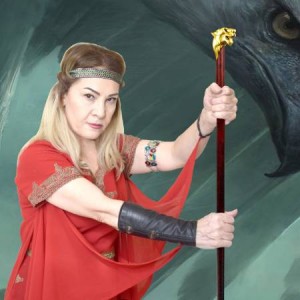 Morshed (Master) Saghi Aghili learned Naqqali (story-performing) under the mentorship of Morshed Davoud Fathalibeygi, Morshed Valiollah Torabi, and Sasan Mehrpouyan.
Aghili has cooperated with Beyzaei, Moheb Ahari, and Charmshir in different projects. In addition to performing Naqqali in Persian, Turkish, and English in Iran, Italy, Germany, Turkey, and Canada, she has participated in about 40 stage performances, TV series, and feature films.
Aghili's notable accomplishments include: teaching Naqqali to children and youth; cooperating in registering Naqqali as a cultural heritage in UNESCO; founding the Naqqali Centre in Toronto; performing a Naqqali titled "300" in Iran and Italy to protest against the fictitious Hollywood film 300 (dir. Zack Snyder) which(she felt) was an insult to Iranian history.