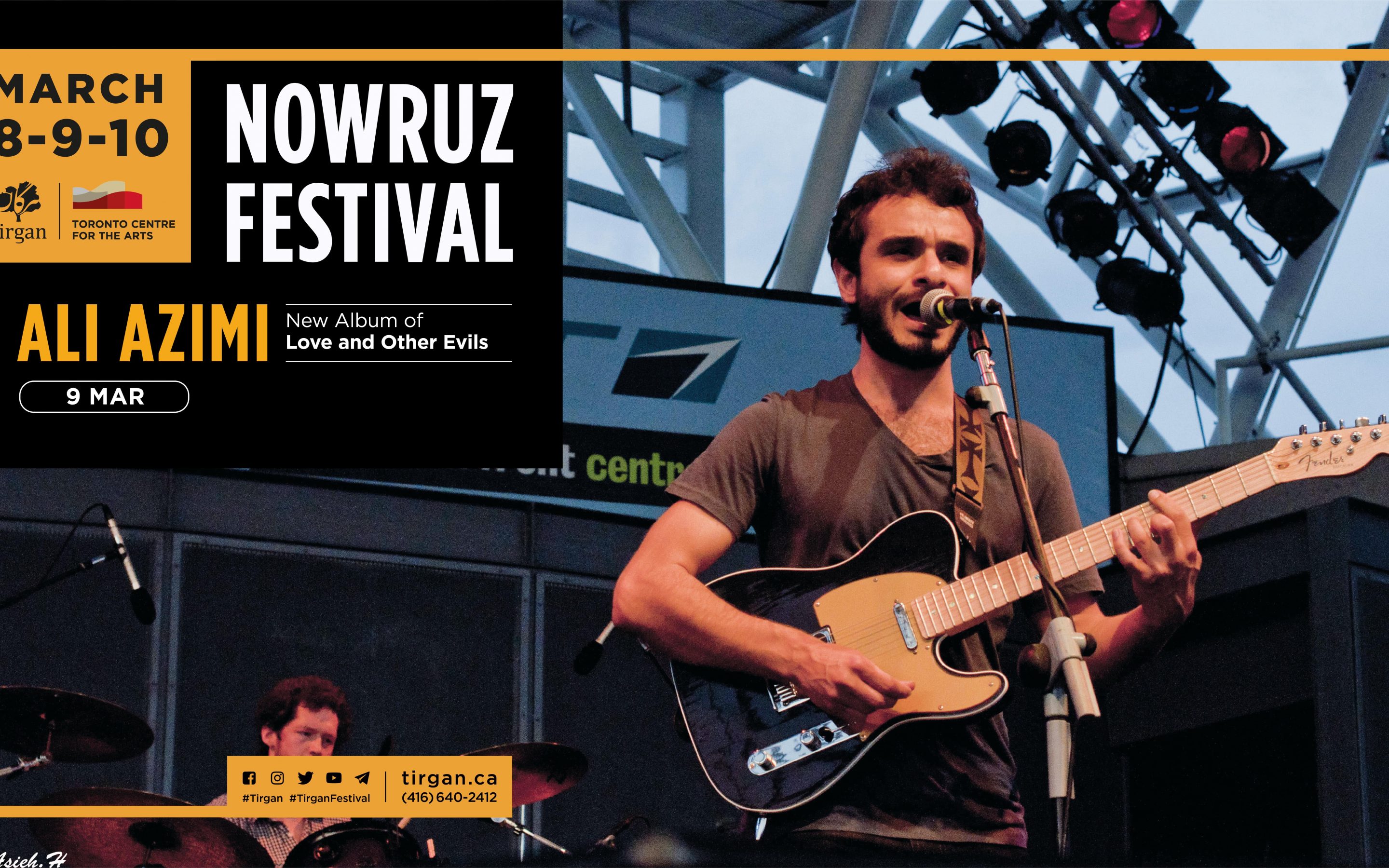 Tirgan Nowruz Festival is proud to welcome Ali Azimi to Toronto. This concert is part of Nowruz Festival 2019 and will be held at the Toronto Centre for the Arts. With great pleasure and enthusiasm, we invite you to join us for another wonderfully memorable night with Ali Azimi.
https://www.instagram.com/p/BtbJzVjFLrB/
Born and raised in Tehran, Iran. Ali Azimi -musician, guitarist, singer and songwriter- began his interest in music at a young age. Coming from a musical family, he self-learned to play the Piano and studied classical guitar with Bagher Moazen. In his early 30's, after years of work and study in the field of Mechanical Engineering, Ali Azimi set aside his work as an engineer in the UK and began to follow his passion for music. The song "33" from the album, Mr. Mean and the song Tatilat, from Radio Tehran album, are both based on this experience. During the same time, Ali founded his own production company Sakkou, which documented underground Iranian music to help promote his fellow musicians who are unable to freely express their love for music in the Islamic Republic of Iran.
After quitting his engineering career Ali Azimi went to Iran and in the year 1388 (2009) and formed the Iranian rock band Radio Tehran. Leading this new band, Ali recorded the album 88. Touching on the issues of the young Iranians, the album gave a fresh sound and perspective within the Iranian alternative music scene. Departing from his previous band, Ali Azimi's first solo album, Mr. Mean, was released in October 2013. This album includes major hit songs such as "Prelude", and "Aghaye Past". The music video for the song "Mr. Mean" was a first prize winner at Farhang Foundation's short film festival.
https://www.instagram.com/p/BtboByTFb6K/
"His album 'Of Love and Other Demons' recounts a character-driven, love-hate relationship story based on the artist's real-life experiences from the very first track to the last. The album borrows its title from Gabriel Garcia Marquez's renowned book (with the discrepancy in ideology), which the artist has an affinity with since adolescence. His lyrics are immensely influenced by contemporary poets such as Shamloo and Taha Mohammad Ali (Palestinian poet) as he doesn't actually relate to classical Persian poetry, finding them much exaggerated in the manner of expression and lacking honesty. Azimi has composed his recent pieces in a way that 'sound more Iranian' due to his experiences combined with the contributions of the featured musicians, 'resulting in innovation in its kind'. Moreover, the new album (which will debut over the span of two years) has paved the way for a collaboration between British and Iranian musicians both inside and outside the country; an aspiring project whose fate predominantly depends on crowdfunding and support for its survival."