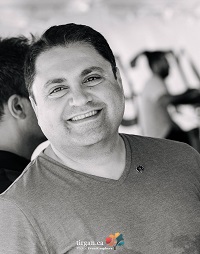 Saviz Arzandeh
Saviz Arzandeh has been a longtime volunteer with Tirgan, participating since 2007 in various departments such as operations, logistics, programming and public affairs. Mr. Arzandeh currently serves as a member on Tirgan's Board of Directors.
Mr. Arzandeh holds a Master of Engineering from the University of Western Ontario. By profession, he has over 20 years of experience in program and quality management in the IT and manufacturing industries.
Tirgan has been a part of Mr. Arzandeh's family for many years. Mr. Arzandeh has trust in Tirgan's mission to promote Iranian art and culture. He believes connecting over art and culture can keep Iranians around the world united, regardless of geographic borders and locations.
Focusing on digital marketing and media during the last 10 years of his profession, his vision is to use digital platforms to make Nowruz and Tirgan festivals more accessible beyond the Canadian borders.