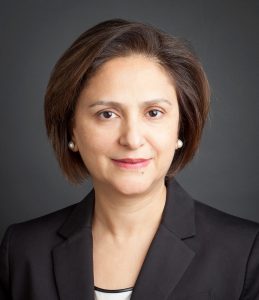 Maryam Ghiai
Maryam is currently Vice President of Enterprise Program Delivery at TD Bank. She is a senior delivery and IT executive with international experience in a diverse range of sectors including the software industry, pension funds, and banking from capital markets and risk management to wealth management, retail and insurance.
Maryam is a change and transformation champion and a passionate leader who has led transformational and complex programs in organizations such as Bank of Montreal, Ontario Teacher's Pension Plan and TD Bank.
She is an active advocate of women in leadership roles as well as women in technology and is actively supporting women's career advancements by providing her time and experience for coaching and mentoring.
She holds a bachelor's degree in Econometrics and statistics from University of Paris II (Panthéon - Assas) and a master's degree in Money, Banking, and Finance from University of Paris I (Panthéon -Sorbonne).
Maryam believes in Tirgan's mission and has been an advocate for the organization . She is looking forward to contributing to Tirgan's continued success.
Maryam has lived and worked in 3 continents and 6 countries and is fluent in English, French and Persian.