Become a sponsor
Building a Legacy for Tomorrow

Sponsorship Benefits
Direct exposure to thousands of Canadian and Iranian art and culture enthusiasts who will be attending the event.
Create business opportunities for participating sponsors, vendors, and artists.
Gaining recognition by being included in our festival marketing campaign that integrates print and press releases, advertising, media coverage, and signage.
Advertising in Iranian-Canadian print and media broadcasting.
Advertising in 40,000 promotional colour brochures, and 10,000 full- colour posters dedicated to the festival.
Direct exposure in our festival website: www.onceuponatimefest.ca.
Being recognized in our monthly e-newsletters that are distributed to over 3,000 members.
Additional exposure that extends beyond festival goers, since our website will receive a direct link on the Harbourfront Centre website: www.harbourfrontcentre.com.   
Being recognized on a larger scale, since our festival will be included in Harbourfront Centre's extensive marketing campaign, which includes the distribution of 250,000 flyer inserts being placed in the Globe and Mail and the Toronto Star newspapers.
Being acknowledged in over 40 festival performances carried out by local and internationally acclaimed artists.
Exposure within the large population of Canadian and Iranian youth.
Gaining prestigious exposure by supporting a cultural festival.
Gaining the respect and recognition of the Iranian-Canadian community.
Sponsorship levels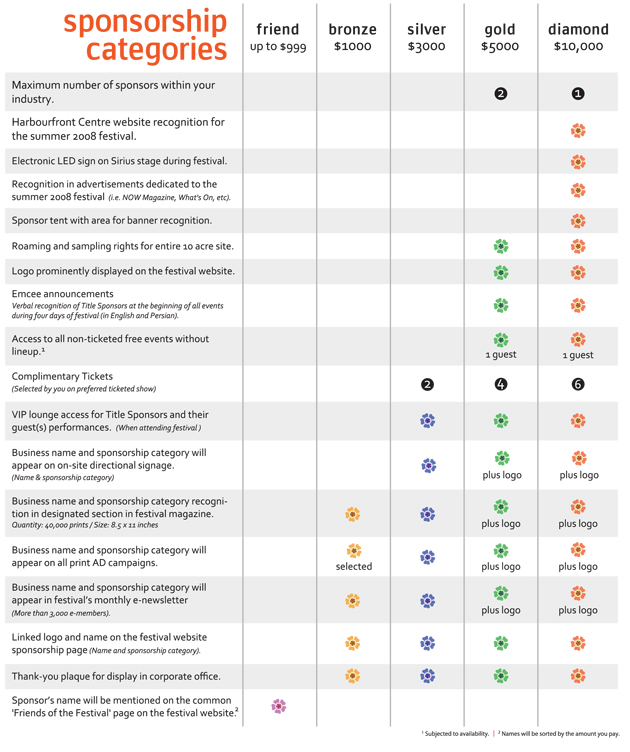 download sponsorship package
To download Once Upon a Time Corporate Sponsorship, please click on the link below.
Corporate Sponsorship Package




Uploaded on: 29 January 2008
any questions ?
For more information on Corporate Sponsorship, Membership, or Donations, please contact:
Nima Ahmadi
Festival Marketing Director
Tel: (416) 704-0279
E-mail: sponsorship@tirgan.ca